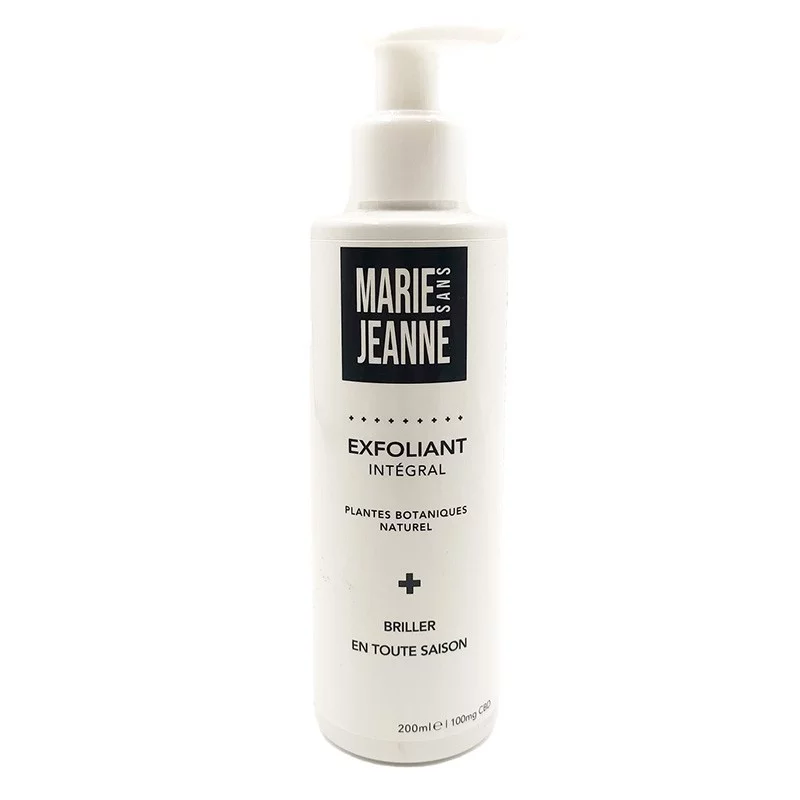 

SOINS CORPORELS - Exfoliant pour le corps
This exfoliating cream for the body Marie without Jeanne of 200ml is enriched with 100mg of CBD. It gives him some advantages. Not only will its application remove dead skins and thoroughly clean it, but also bring it all cbd benefits. It allows muscle release once entered into the body for maximum relaxation. This exfoliant moisturizes, protects and conditions your skin. Infused with vitamins A and E, this exfoliant allows to nourish, moisturize and revitalize it in depth thanks to the action of shea butter, and Aloé Vera. This product is without THC, no paraben and no alcohol.

Security policy (edit with Customer reassurance module)

Delivery policy (edit with Customer reassurance module)
This exfoliant for the 200ml body available on our CBD shop france, contains 100mg of CBD that will provide you with unparalleled relaxation and relaxation. CBD's action combined with vitamin A and E enrichment will bring protection, rejuvenation and hydration to your skin. CBD also has antioxidant properties.

The properties of the exfoliant for the body
This exfoliant with no paraben, no THC and no alcohol allows the skin to be thoroughly cleaned, purified, and gives it all its brilliance thanks to CBD and the vitamins it contains. It also nourishes the skin thanks to the action of Aloé Vera and the shea butter it contains. It also has a slight taste of watermelon.

In what circumstances is it necessary to use the exfoliant for the body?
This exfoliant can be used when the skin is damaged, dry, terne. But also for a relaxing and relaxing moment to feed and protect it.

How to use the exfoliant for the body?
Just take it to the hollow of his hand and apply it to the desired body area while slaughtering slightly. Think about moisturizing your skin with a bodily lotion of your choice.
This product is prohibited for minors and not for pregnant women.

LISTE D'INGRÉDIENTS
Aqua, sunflower oil, natural sandstone, glycerol monostearate, steatric acid, vegetable glycerin, propylene glycol, Aloe Vera leaf extract, organic shea butter, cocoa butter, carbomer, tocopheryle acetate, Retinyl Palmitate, Phenoxy-ethanol, Sodium Benzo
8 other products in the same category:
24.90
29.90
Regular price
-5.00 off
Price