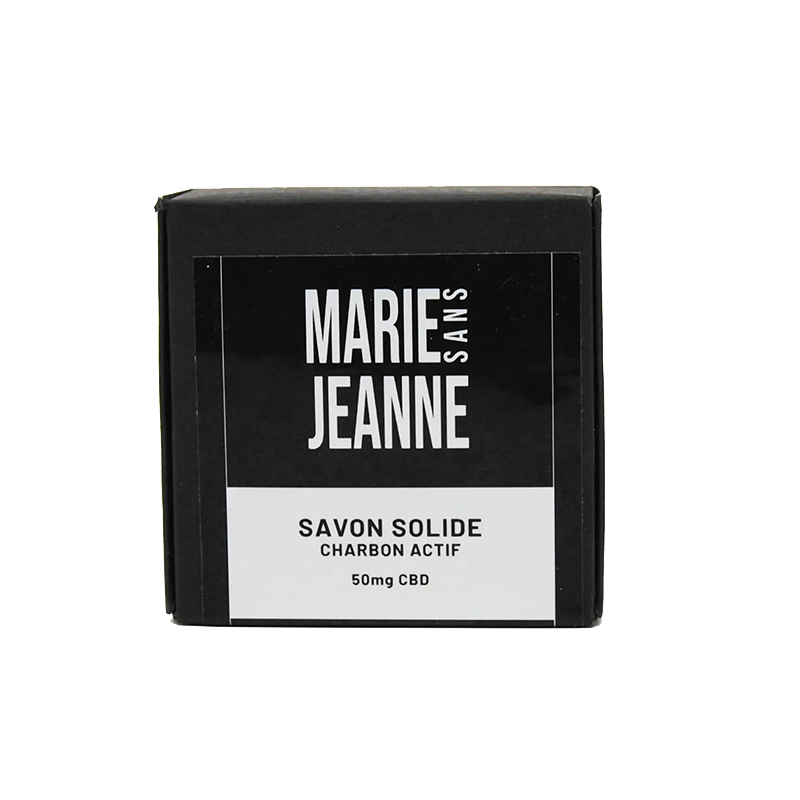 

SOINS CORPORELS - Gel réparateur après tatouage
Solid soap Marie Sans Jeanne is a vegan product with activated carbon CBD. Its capacity is 100g with 50mg of CBD. This solid soap is ideal for sensitive and dry skins. It contains natural essential oils that have the virtues to moisturize and nourish your skin. Combined with its exfoliating action, it allows to detoxify, disintegrate pores and thoroughly clean the skin daily. It absorbs impurities and fights against imperfections without drying the skin. Thanks to the anti-inflammatory benefits of CBD, this solid soap is ideal for skins with eczematous tendency or easily developing psoriasis.

Security policy (edit with Customer reassurance module)

Delivery policy (edit with Customer reassurance module)
Solid soap Marie Sans Jeanne active coal contains 50mg of CBD available in our CBD shop france. It is also one of the leading products of our shop.CBD cosmetics have some benefits. This CBD solid soap protects and nourishes your skin without attacking it. Its exfoliating action is very effective for sensitive and irritated skins, it can be used daily during your daily shower. It thoroughly cleanses and soothes your skin so that your epidermis keeps all its softness and shine without drying it.

What are the advantages of using a solid soap Marie Sans Jeanne ?
Totally legael, the CBD seduced by its many benefits. In addition to moisturizing and feeding your skin, solid soap Marie Sans Jeanne CBD contains bergamote that accumulates between the hair follicles of your skin and acts as an anti-inflammatory with soothing action on irritated skins. The bergamote also has anti-refrigerent action and repairs your skin so that you regain a healthy and gentle skin.
In addition, solid soap is as good for your skin as for the planet. Solid soaps are more ecological and do not contain superfluous chemicals.

Solid soap Marie Sans Jeanne Is it suitable for all skin types?
Solid soap Marie Sans Jeanne can be used for all skin types. This product Cosmetic to CBD is particularly suitable for people developing eczema or psoriasis. Indeed, CBD anti-inflammatory virtues calm and soothe the areas of your skin that could be irritated. It is ideal for squamous skins, which need to be thoroughly nourished and hydrated. It can be used daily or occasionally depending on your desires.
Our solid CBD soap does not contain THC, so you can use it daily without any fear of side effects or accoutumance.

How to use solid soap Marie Sans Jeanne?
Solid soap Marie Sans Jeanne is easy to use. Just wet it with warm water and make it foam in your hands. You can clean the most sensitive areas of your body like the face or the turn of your eyes. For the rest of your body, you can gently rub your CBD soap on your skin by making circular movements. So, the scented essence of soap cleans and moisturizes your skin gently. Finally, rinse with clear water to remove all remaining soap. Solid soap Marie Sans Jeanne leaves a pleasant fragrance that will accompany you throughout the day. For your hair, solid shampoo Marie Sans Jeanne is ideal and has many benefits for the scalp.

This product is prohibited for minors and not for pregnant women.

LISTE D'INGRÉDIENTS
CBD solid soap - Marie Sans Jeanne - Active charcoal: Aqua, glycerin, sodium stearate, propylene glycol, sorbitol, sodium laurate, sodium laureth sulfate, disodium lauryl sulfosuccinate, sodium chloride, stearic acid, lauric acid, pentasodium pentate, nusodium tetrasodium etidronate, Cedrus at
No customer reviews for the moment.
5 other products in the same category: