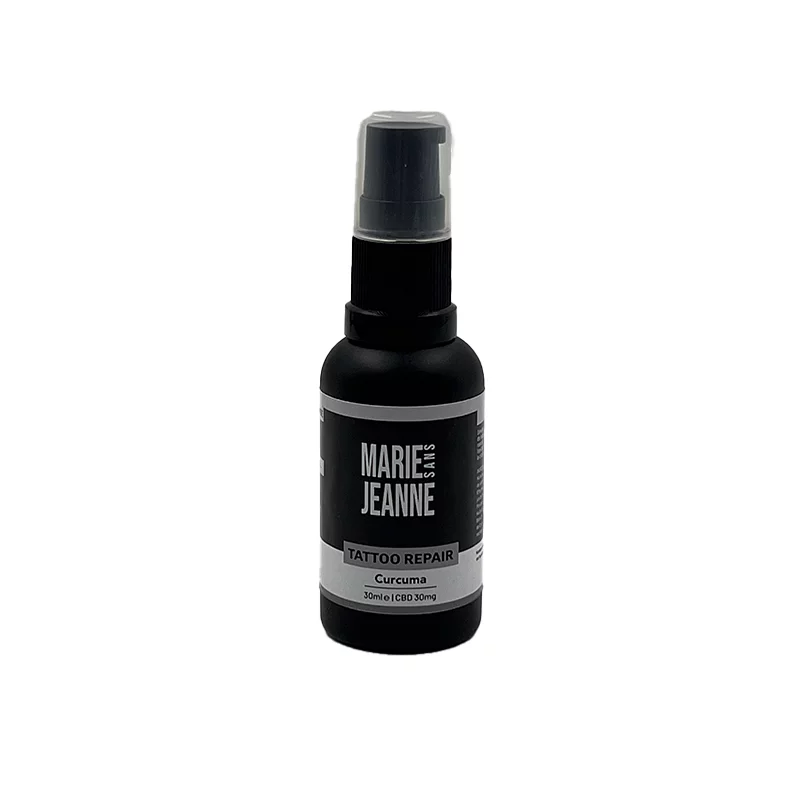 

SOINS CORPORELS - Gel réparateur après tatouage
The tattoo gel Marie Sans Jeanne is a 30ml bottle that contains 30mg of CBD. This product is a powerful healing agent that is used to promote the healing of the skin following a permanent tattoo. The joint action of its 100% natural ingredients moisturizes, protects and repairs your skin. Composed of Nigelle seed oil, Aloe Vera and glycerin, the tattoo gel will offer you all the comfort your skin needs after a tattoo. Finally, the subtle spicy fragrance of this healing and moisturizing gel with turmeric and camphor will allow you to enjoy pleasant scents throughout the day.

Security policy (edit with Customer reassurance module)

Delivery policy (edit with Customer reassurance module)
The tattoo gel with a capacity of 30ml contains 30mg of CBD. Available on our CBD shop france, the repair gel after CBD tattoo is ideal to take care of your skin after a tattoo. These natural ingredients moisturize and protect your epidermis in depth for quick healing of your tattooed skin. Total legalCBD helps your skin to heal quickly after a tattoo! Without THC, it does not create no side effects or access.

What are the properties of CBD tattoo gel?
The CBD tattoo gel consists of Nigelle seed oil. Their anti-inflammatory virtues combined with those of cbd pain calm and soothe your tattooed skin. The immunostimulating properties of Nigelle seed oil also prevent the wound from becoming infected. In addition, the Aloe Vera contained in the tattoo gel deeply moisturizes your fragile skin. Finally, glycerin cleans and softens your skin to improve and accelerate its healing. The combined action of all these ingredients is therefore ideal to guarantee fast healing in just a few weeks.

In what circumstances is it necessary to use the tattoo gel at CBD?
CBD tattoo gel Marie Sans Jeanne can of course be used after you are tattooed, but also after other interventions that can attack your skin as a laser hair removal, wax or even a razor. The tattoo gel will allow you to moisturize your epidermis and accelerate its healing. CBD tattoo gel is suitable for all skin types, even atopic and sensitive skin. Moreover, one of these main virtues is to reduce redness caused by the irritation of the epidermis. To relieve irritated skin, you can also use our aloe vera repair gel.

How to use the tattoo gel at CBD?
Remember, when you get tattooed, strictly respect the recommendations of your tattooer. In general, it is recommended to wait between 4 and 6 hours before removing your dressing. When you wash the tattooed area, your hands must always be clean, so as not to introduce microbes or bacteria on the still open wounds of your tattooed skin.
Before applying the tattoo gel, it is essential to wash the tattooed area with a soft and antibacterial soap. Then you can apply your CBD-scattering tattoo gel. This can be repeated 2 to 3 times a day. It is best to leave your tattoo open so that the healing is more effective. Finally, for at least a month, avoid any sun exposure, also avoid swimming at sea or pool. A small tip also to protect your tattoo, keep the habit of using sun cream when you are exposed to the sun.

This product is prohibited for minors and not for pregnant women.

LISTE DES INGRÉDIENTS
Aqua, Dipropylene Glycol, Nigella Sativa Seed Oil, Xanthane Gum, Phenoxyethanol, Ethylhexylglycerin, Glycerin, Aloe Barbadosnsis Leaf Juice Powder, Turcuma Longa Root root oil
24.90
29.90
Regular price
-5.00 off
Price
Customers who bought this product also bought:
8 other products in the same category:
24.90
29.90
Regular price
-5.00 off
Price
19.90
28.90
Regular price
-9.00 off
Price