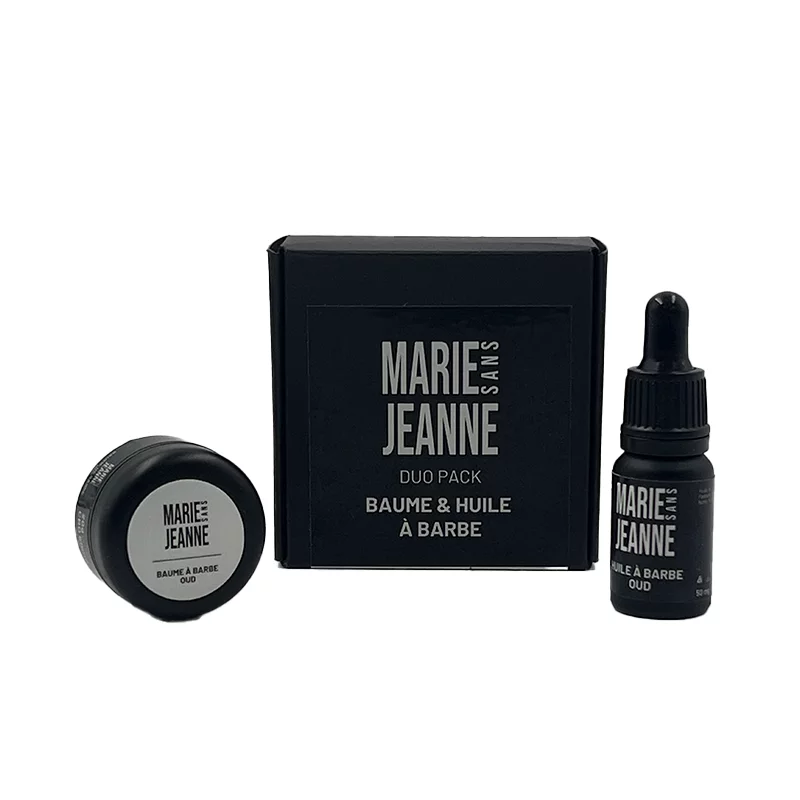 

SOINS VISAGES - Coffret trio baume à lèvres, baume à barbe et huile à barbe

Security policy (edit with Customer reassurance module)

Delivery policy (edit with Customer reassurance module)
The Duo pack balm and beard oil consists of two products essential to the proper maintenance of your beard. The 20g CBD beard balm contains 100mg of CBD and the 10ml beard oil contains 50mg of CBD. This Duo Pack is of course available on our CBD shop. It is perfect to maintain your beard on a daily basis thanks to the softening properties of the balm and CBD oil. Total legal, the CBD will delight you by its manybenefits on beard and skin.

Why use the Duo pack balm and beard oil at CBD?
The Duo Pack balm and beard oil at CBD nourishes and moisturizes the hairs of your beard in depth. It accumulates between the hairy follicles of your beard and softens your roots. The hairs are rehydrated and the growth of new hairs is stimulated for softer hairs and a beard visibly smoother. Its subtle fragrance combined with the benefits of CBD oil protects your beard for a visible result in just a few days.

For what type of beard is intended the Duo pack balm and beard oil at CBD?
The Duo pack balm and beard oil is suitable for all types of beard. Its natural ingredients do not affect sensitive skin. On the contrary, the oil of CBD soothes and repairs irritated skin thanks to its anti-inflammatory properties. Whether your beard is short or long, the Duo pack balm and oil at CBD will allow you to take care of your beard on a daily basis, while helping you restructure it if necessary.

How to use the Duo pack balm and beard oil at CBD?
Depending on the length of your beard, brush it to clean it and remove dead skins. Then apply your balm by dulling your fingers and applying it directly to your beard. You can alternate with beard oil. This applies in the same way on a clean beard. Simply put in the hollow of your hand a few drops of oil and apply it directly to the hair in a uniform way. The important thing is to make the product properly penetrate through the entire thickness of your beard.

This product is prohibited for minors and not for pregnant women.

LISTE D'INGRÉDIENTS
Customers who bought this product also bought:
24.90
29.90
Regular price
-5.00 off
Price
8 other products in the same category:
19.90
28.90
Regular price
-9.00 off
Price
24.90
29.90
Regular price
-5.00 off
Price