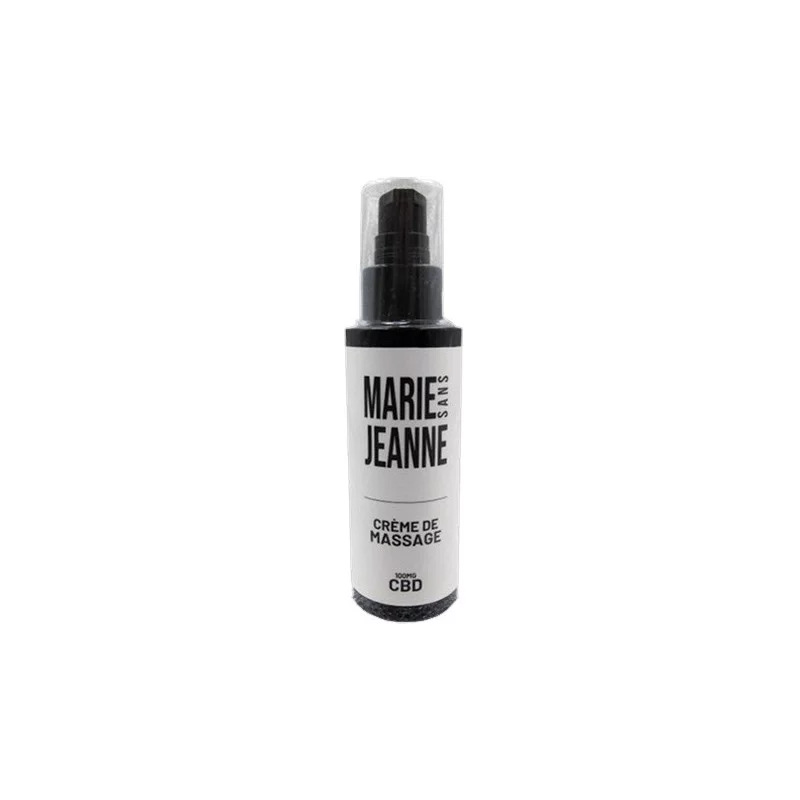 

BAUME MUSCLE ET ARTICULATION MSJ 250 G
The CBD muscle massage cream is to be used before or after sport or simply after a long day to relieve your muscles and relax. In 100ml bottle, massage cream Marie Sans Jeanne contains 100mg of CBD, it allows quick and targeted action on the painful area. Easy to apply, by massage, it is a pleasant cream that will seduce you with its sweet fragrance to the watermelon and its multiplecbd benefits acting on muscle and joint pain. Sporty or casual, this CBD muscle massage cream will quickly and efficiently relieve all your curbs and pains!

Security policy (edit with Customer reassurance module)

Delivery policy (edit with Customer reassurance module)
Perfumed with watermelon, muscle massage cream at CBDMarie Sans Jeanne is ideal before or after a physical effort, to fight pain. Specially designed to relieve muscle and joint pain, CBD massage cream Marie Sans Jeanne is what you need! Infused with CBD, this massage cream allows you to quickly enjoy allbenefits of cannabidiol Hemp. Total legal, CBD in France is increasingly used because of its many benefits! Without THC, our muscle massage cream does not present no risk of dependence or side effects. A simple local application, accompanied by a massage, will allow you to feel the first effects and relax after a tiring day or an intense sports session.
Why use CBD massage cream?
Anti-inflammatory, CBD helps fight pain. This asset is recognized to act quickly and effectively to relieve stress and anxiety tensions. Thus, CBD massage cream sold in our cbd shop quickly and relax your muscles. It can be used in a preventive way, with an application before effort, or in a curative way, on muscles and painful joints after an intense effort or day.
Our CBD muscle massage cream contains 100mg of CBD, which allows quick and effective action. Once the cream is applied, the CBD penetrates and acts on the painful area. Regular application will also allow CBD to act in depth and reduce inflammation present.
Who can use muscle massage cream at CBD?
This body care at CBD is accessible to all.
It is not necessary to be used to CBD to use this cream. However, this product should not be used on minors, as CBD is prohibited for persons under 18 years of age. This massage cream is also not recommended to pregnant or nursing people.
How to use muscle massage cream at CBD?
Muscle massage cream at CBD Marie Sans Jeanne applies very easily. Its doser bottle allows you to get exactly the required quantity.
You just need to apply the product to the painful area and massage firmly until the whole cream enters. For a faster and important effect, massage your muscle by stretching it to relax it. You can enjoy the benefits of a massage, then the virtues of cbd pain !
This product is prohibited for minors and not for pregnant women.
LISTE D'INGRÉDIENTS
Aqua, sunflower oil, mono glycerol stearate, steatric acid, glycerine, propylene glycol, jojoba seed oil, Aloe Vera leaf extract, shea butter extract, Lavande, Carbomer, Tocopherol, Retinyl Palmitate, Phen-oxyethanol, Sodium Benzoate, Parfume:
8 other products in the same category:
19.90
28.90
Regular price
-9.00 off
Price
24.90
29.90
Regular price
-5.00 off
Price
24.90
29.90
Regular price
-5.00 off
Price