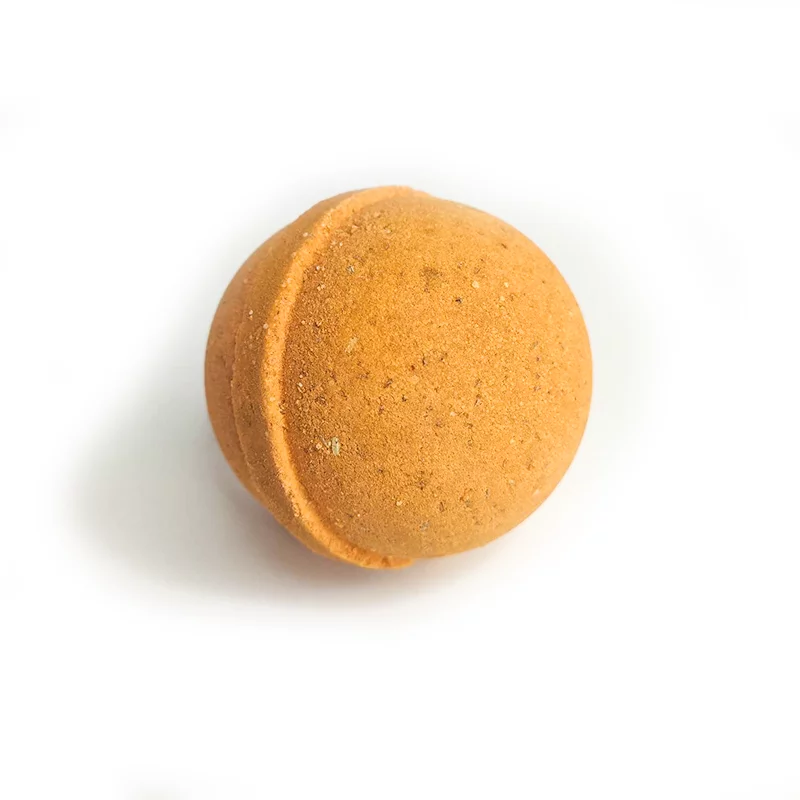 

CITRUS BATH BOMB - MSJ
Discover the benefits of CBD thanks to 100% artisanal bath bombs Marie Sans Jeanne.Offer a unique experience and an unforgettable relaxing moment with our range of bath bombs infused with CBD.Bath bombs Marie Sans Jeanne are made with high quality ingredients to guarantee a relaxing and beneficial bath.
Using our bath bombs, you can enjoy the following advantages:
Deep relaxation
Pain relief
Skin Hydratation
So don't wait anymore, offer yourself a well-deserved relaxing moment with CBD bath bombs Marie Sans Jeanne and turn your bathroom into a real haven of peace.Enjoy a relaxing bath that will help you relax and take care of your body and mind.

Security policy (edit with Customer reassurance module)

Delivery policy (edit with Customer reassurance module)
Combining the benefits of CBD with the virtues of many natural ingredients, our bath bombs with justCBD hemp cannabidiol are ideal for a relaxing break. Place the ball in your bath and make it foam to fully enjoy all the benefits of hemp. Detent, well-being and serenity guaranteed!
Choose between citrus fragrances, pink, eucalyptus, lavender and cherry and offer you a unique experience!

What is a CBD bath bomb?
Our CBD bath bombs are 100% handmade. Made with ingredients of first choice, they aim to help you relax and fully enjoy a good hot bath.
Made with epsom salts and hazelnuts, our bath bombs with justCBD hemp relieve inflammation and reduce muscular tension. Enriched with CBD, they also promote well-being and help fight stress and anxiety. This is the ideal solution to take a bath while offering the best to your body!

What are the benefits of a bath bomb at CBD?
The CBD in Franceis appreciated and used for its many benefits. Our bath bombs help you relax and forget all your troubles! In addition, hemp cannabidiol is renowned for its benefits on the skin. It limits the appearance of signs of aging, helps cells regenerate and calms the inflammations of the skin. Moisturizing and nourishing, CBD will do a lot of good to your skin and help it regain its flexibility and splendour.
And that's not all! Very popular,cbd painhas anti-inflammatory properties that help to combat daily pain and relieve pain associated with chronic diseases or heavy diseases. It relieves many pains and makes it feel good in its head and body!

How to use the bath bomb at CBD?
The JustCBD bath bomb is used, like all bath bombs, very easily. All you have to do is run a hot bath and drop the bath bomb in the CBD to disperse and foam. Once done, you can slip into your bath and continue your toilet by taking advantage of CBD's benefits. Offered in 5 perfumes, this bath bomb adapts to your tastes and desires, for an unforgettable relaxing break.
If you have sleep problems, prefer a bath at the end of the day to fully enjoycbd benefitsand recover a restorative sleep.
For more efficiency and maximum well-being, also discover our Wellness pack, consisting of a JustCBD bath bomb, a soap and a CBD lotion.

This product is prohibited for minors and not for pregnant women.

LISTE D'INGRÉDIENTS
Olive oil, sodium bicarbonate, citric acid, Epsom salt, jojoba oil, hamamélis, aloe vera, rosemary, cedar wood, lemon, tangerine, sweet orange, cannabidiol hemp extract (CBD*).
8 other products in the same category: